Update: Comments from VCLU President Pietro Geraci have been added.
At 7PM on October 25th, Professor William Jacobson of Cornell Law School took the podium in front of a crowd of roughly 300 people, amid the slanderous information spread by organizations on campus preceding his lecture on free speech. Jacobson gave a thorough legal perspective on the First Amendment and its historical importance, appealing to people across the political spectrum.
In applying for speaker funding, there were communication issues between the VCLU and the VSA (Vassar Student Association), and, consequently, a misunderstanding on the final title of speech. Jacobson explains it on his blog Legal Insurrection, here:
"The lecture originally was advertised as "'Hate Speech' is Still Free Speech, Even After Charlottesville." The name was changed because the sponsoring student group filed for funding under another title, so we were asked to use that approved title."
VCLU President Pietro Geraci apologized for the misunderstanding in The Cornell Daily Sun's recap of the event: "I agree that wasn't acceptable and that we shouldn't have done that. And I messed that up. I should have went with what was on the funding application. I should have changed it when it when it was brought to my attention."
The discussion regarding free speech and "hate speech" is a tough conversation worth having with students. Unfortunately, categorical lies about Jacobson's appearance on campus, spread by people and organizations given the responsibility of representing the student body, helped fan the flame of hysterical and unnecessary outrage and fear on campus. The question still remains as to why these people and organizations did what they did (no retraction or apology for the misinformation has been issued). As of October 31st, no accountability has been enforced by the college administration on these people and organizations. Jacobson's explain his take here:
"There is a malevolence on the Vassar campus, among a small but potent percentage of the student body, faculty and staff, that the Vassar administration has not come to grips with. Instead, people falsely claiming I posed a threat to campus safety had their baseless reactions recognized as legitimate."

The event as it took place was as it always was intended to be, a serious discussion of the balancing of 1st Amendment free speech and campus inclusivity concerns on private college campuses. There never was any factual basis to claim otherwise, only actual malice."
Jacobson recapped his own take regarding the misinformation here, as well as the rather head scratching student response. The lecture video is embedded below, and the Q&A session is embedded at the bottom of Jacobson's post. Jacobson goes into further detail about the misinformation campaign in this follow-up post.
There are still serious unanswered questions left after the October 25th lecture. Even though the VCLU ran its most well attended event to date, the lack of campus accountability regarding misinformation campaigns raises serious questions going forward about the club's ability to host speakers without being unjustly intimidated into backing down. Even so, Geraci, speaking on behalf of the VCLU stood firm telling The Cornell Daily Sun the lecture "was probably one of the finest lessons ever taught at Vassar. With regards to speech and the Constitution and the First Amendment. I think it was really important for people to be able to come and have expos[ure] to this view."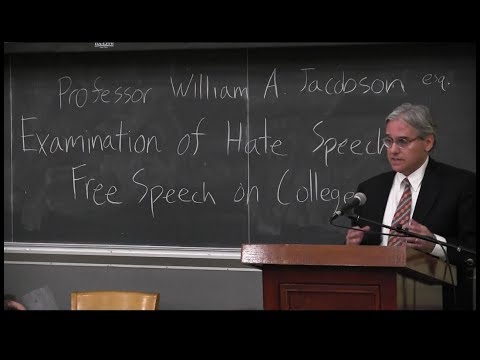 Credit to Legal Insurrection